Our Approach
The Venture Acceleration Program is based on Steve Blank's Customer Development Model and Eric Ries' Lean Startup framework. Our Venture Growth Model defines the growth process for a startup in four stages: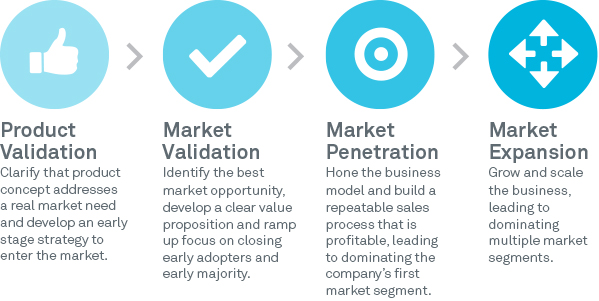 Entrepreneurs are guided through the Venture Growth Model by an Executive in Residence (EIR), and other resources as needed.
Here's how it works:
EIRs are experienced professionals who are on contract with Venture Acceleration Program delivery partners. Every entrepreneur in the program is assigned an EIR who becomes their primary advisor and coach. EIRs guide entrepreneurs through the Venture Growth Model, working closely with them to set the right objectives and focus on the right priorities. They coach entrepreneurs though day-to-day issues and help them overcome the typical challenges of successfully growing a startup. Find out more about our EIRs .

Delivery partners are organizations focused on helping tech entrepreneurs accelerate the growth of their venture. Their services vary, but generally they offer access to training, seminars, advisory services and networking opportunities. Delivery partners are true community builders who are core to the growth of the technology ecosystem.

Entrepreneurs have a dream and the commitment to succeed. The Venture Acceleration Program can help you turn your great innovation into a business success story.